How Do I Permanently Delete My Facebook Account ?
Facebook does not make it easy to delete your account. You need to follow a special procedure to request deletion of your Facebook account. If you have totally made your mind and want to delete your account then follow the steps shown below.
Backup Your Account Data (Optional) :
Before you delete your Facebook account it's recommended to backup all your data because after deleting your account you are going to lose all the data present in your account. Anyhow this is not a compulsory process you can skip it if you want.
So first login to your Facebook account for the last time.
Click the down arrow icon() and select Settings.
Under General Account Settings click the option which says Download a copy of your Facebook data. Refer the below screenshot for more help.

Now you will be redirected to a new page, just click on request a copy of your archive. They will ask you to re-enter your password for security purpose and you're done.

Now within few minutes your archive will be sent on your registered/primary email address.
Make sure to check the email under Social category or label.

Download your archive and now it's time to delete your Facebook account.
Permanently Delete Your Facebook Account
They will ask you to enter your password and solve the captcha. So do it and your account will be permanently deleted.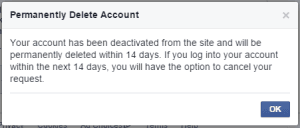 Now your account is deactivated and it will be permanently deleted within 14 days. Meanwhile if you think that you really miss Facebook then you can login to your account and cancel your Facebook account deletion process.

Note – Once your account is deleted, even mark zuckerberg can't recover it.
How to Deactivate Your Facebook Account ?
As said earlier this is the best option to temporarily delete your Facebook account. Your profile will be not visible to others after deactivating your account and the best part is you can reactivate it anytime.
Login to your Facebook account, Click the down arrow icon() and select Settings.
On the left hand side click the security tab.
Now on the right hand side click Deactivate Your Account option at the bottom.

Again click on deactivate your account to confirm it.
To reactivate your account you just need to login to your Facebook account again.